JOIDES Resolution docked in Puntarenas, Costa Rica over the weekend
By Bill Miller  / SICR Staff / Sunday, 17 April 2011
PUNTARENAS, COSTA RICA – If you were wondering what was that steaming north on the horizon last week, you weren't  alone – it looked like a moving oil rig of some kind and it definitely got your attention. Well don't worry yet that Costa Rica will be constructing oil & gas offshore rigs anytime soon – it was just a drilling exploratory ship just finishing a 4 week Costa Rican Seismogenesis Project (abbreviated "CRISP") and is about to start another 6 week expedition dedicated to superfast spreading rate which will be performed at about 900 km west of Costa Rica.  The ship is part of the International Ocean Drilling Program (IODP), an international research program dedicated to advancing scientific understanding of the Earth through drilling, coring, and monitoring the subseafloor.  The crew is international with members from North America, Europe, Australia and Asia.
CRISP Expedition
The JOIDES Resolution website describes their important CRISP expedition and its relevance to Costa Rica here:
The CRISP Expedition science team is working to better understand the processes that trigger large earthquakes at subduction zones (where one tectonic plate slides under another) by examining the geologic history of the oceanic Cocos tectonic plate and volcanic ridge, which together push under the Caribbean plate in an area just off Costa Rica's Pacific coast. This subduction system is representative of 50% of global subduction zones, making scientific insights gleaned here relevant to Costa Ricans and others living in earthquake-prone regions all around the Pacific Ocean – where more than 80% of earthquakes above 8.0 magnitude occur.
SUPERFAST SPREADING RATE CRUST 4 Expedition
The yellow dot indicates a previously drilled well (#1256) that bores down to 15 million year strata that will be redrilled for further core sampling and logging.  The website elaborates more on this well:
Hole 1256D presently penetrates about 1500 meters below the seafloor, and reaches the base of the upper, volcanic crust. This expedition will continue the mission to understand the formation of oceanic crust, by deepening Hole 1256D several hundred meters, and studying the magmatic rocks of the lower crust, which scientists expect to access for the first time in their original position.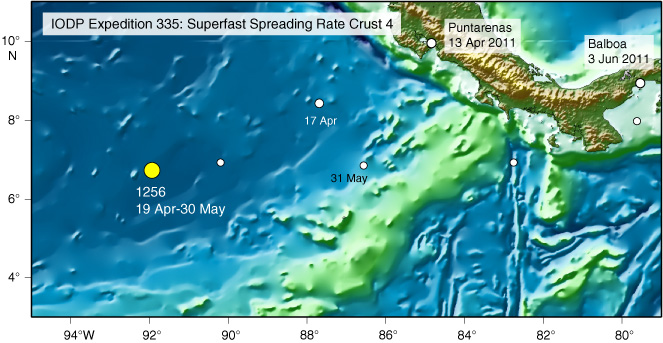 DYNAMIC POSITIONING SYSTEM  (DPS)
The ship can drill in waters as deep as 8,200 meters or 5 miles and to keep its position in the same place an interesting feature of the ship is its dynamic positioning system which utilizes 2 GPS systems, gyroscopes and a sonar system using a seabed acoustic beacon in conjunction with multiple ship hull receivers to accurately determine the ship's position by minute timing difference.  To maintain its position, 2 propellors and 12 thrusters are employed all controlled by computer.

Dynamic Positioning Control room of the JOIDES Resolution
The ship has a crew of 120, works 24/7 and in two 12 hour shifts.  In case you were curious about the ship's name JOIDES – it's an acronym for Joint Oceanographic Institutions for Deep Earth Sampling.  Look for the ship while you are out sport fishing.
Back to Top